In a first for the Nationals Farm Authority, I had the opportunity to interview a Nationals prospect.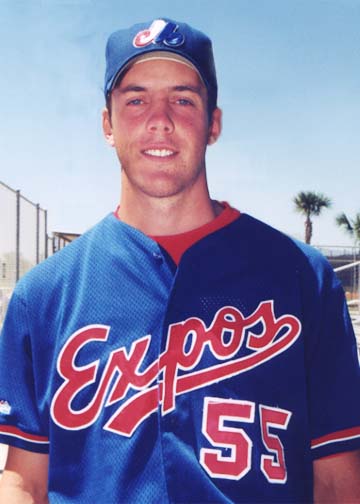 Nationals RHP,
Shawn Hill
, was kind enough to take the time to answer a few questions. Hill was a 2000 6th round draft pick by the Montreal Expos out of Bishop P F Reding in Georgetown, Canada. He made three starts for the Expos in 2004 before playing for the Canadian Olympic team. It was after a strong appearance against Cuba that Hill discovered he was going to require Tommy John surgery. He spent most of this year rehabbing from the surgery he underwent in September of 2004. Without further ado:
Nationals Farm Authority (NFA):
Who was your favorite team growing up? Favorite player?
Shawn Hill (SH):
Toronto Blue Jays, and Robbie Alomar, I was a shortstop, so I could somewhat relate to him and enjoyed watching him play and have fun more than anything.
NFA
: The San Diego Padres drafted you in the 33rd round of the 1999 draft but you did not sign. You were then drafted in the 6th round of the 2000 draft by the Montreal Expos. Was there a reason that led you to not sign with the Padres? Can you describe your draft day experience(s)?
SH
: The main reason I didn't sign with the Padres was that I wasn't healthy for starters. The other big thing though, is that was the very first year I was learning to pitch, and I wasn't nearly ready for a direct jump to pro ball. I basically waited the extra year to see if I would get drafted higher, and also to make sure my arm would be healthy enough to handle it all. The draft day the first year was non-existent to be honest, I didn't even know I was going to get picked at all. The year the Expos picked me though I was with all my family and some friends, we pulled an all-nighter playing games and hanging out waiting for it, and then listened to the draft on the internet and waited to be picked, all in all it was a fun day.
NFA:
What was the first thing you bought when you signed with the Expos?
SH:
A laptop I believe, to keep in touch with everyone back home because international long distance was a joke, and I didn't even think of getting a cell phone at the time.
NFA:
Describe yourself as a pitcher. For those not familiar with you, with which current major leaguer would you compare your pitching style?
SH:
I'm almost primarily a fastball pitcher, and a sinker at that. I also throw a changeup and curveball which would be my out-pitch, but I rely heavily on my fastball because of the movement, and command as well which is are my two biggest assets. If I had to compare myself to someone, I'd say someone like Derek Lowe, because of the sink on his fastball, but I personally like to compare to [Greg] Maddux, who I'm obviously not nearly as polished as, but just in the way he pitches, more of a mental approach, and ability to dissect the strike zone.
NFA:
You pitched very effectively at each level you were assigned. What were the biggest challenges you faced upon entering professional baseball?
SH:
The biggest thing for me was fighting through my arm issues . . . I first tore my UCL in '99, so I've pitched each year with it partially torn, and just had to fight to not wear down too bad. The other big thing was just the learning curve for me the first two years or so since they were my very first years as a pitcher, I'd always been a shortstop growing up.
NFA:
What's the most interesting thing that has happened to you playing pro baseball?
SH:
There's three things that stick out to me. The Olympics are the first and obvious one just for the sheer fact that it was the Olympics and we came so close. The second would be my first professional at bat, which was 2003 in Harrisburg in my first game after getting called up, I hit a grand slam on my first swing. And the third would've been my first win in the big leagues with the Expos last year, it was the final game ever between two Canadian based teams, and it was on the 4th of July, and in Puerto Rico of all places, just seemed like alot of weird coincidences there.
NFA:
You were selected to play on the 2004 Canadian Olympic team. What was that experience like?
SH:
Unbelievable, but so disappointing at the same time. The guys on the team were the greatest group of guys I've ever played with, and the Olympic experience (i.e. Opening ceremonies, Olympic Village) was something that you wish everyone could experience at least once, overwhelming at times, but definitely something I think helps put things in perspective for you as well. The Cuba game for me was a huge learning experience as well, and the let down from it is something that I still want to revenge if you will, but I think will make me a better competitor down the road.
NFA:
You first tore your elbow ligament in 1999 but it wasn't until last year that you underwent Tommy John surgery. When did you know something was wrong? What was your reaction when you received the diagnosis?
SH:
Funny thing is I knew after my first full year, which was 2001 in extended and then Vermont, that I was going to have to have something done eventually. I told my dad back then, as well as some friends, that it was just a matter of time before it wore down too much for me, I just had no idea how long it would take. Taking that into account, I wasn't exactly shocked when Dr. Andrews told me I was going to have to have it done, but still was a bit to swallow, knowing there was a good chance I'd miss most of this year if not all, which was the case.
NFA:
How is the rehabilitation going? When did you first start throwing again? Where have you been rehabilitating? Have you noticed any differences in your mechanics pre- and post- surgery?
SH:
Rehab is going very well, I've kept myself strong and ready to go, the only thing that kept me out of action this year is that my bones in the elbow weren't ready to go yet. I started throwing in January, and was on the mound in April but got shut down three times in total due to the bones flaring up on me. As far as mechanics go, I feel the same for the most part, the only thing that may be slightly different is I'm trying to stay a little more compact and stay back through my delivery.
NFA:
Are you changing up your pitch selection and dropping any pitches and/or working on new pitches post-surgery?
SH:
Nope would be the short answer. I've always messed around with a cutter from time to time, but until I know for certain that the elbow is ready for alot of innings, with breaking balls included, then I'm not going to tinker too much with things, just try to get healthy and if need be in the future I'll add or subtract from the repetoire.
NFA:
Are you still under contract with the Nationals? Where do you hope to be in April of 2006? Have you set your own timetable of where you want to be and when you want to be there? Or are you taking it day by day?
SH:
Yeah, if nothing changes then I would be a six year free agent next off season, but as of now still with them. I hope to be in the big leagues to be honest, but in all reality I expect to be in AAA, and not going to be ignorant of the possibility of AA. I feel though that come spring training I'll be ready to compete with at least the AAA level, and if not the big league level, and then just a matter of establishing myself. The biggest thing is making sure the bone is completely healed up, and then I feel confident that I'll be ready to compete in Washington next year, whether it's April, or September.
NFA:
Can you tell me if there has been a change in atmosphere within the minor league organization since the relocation to Washington DC? Has anything changed significantly or has it been business as usual?
SH:
For the most part business as usual, but we at least lost the big concern of worrying about where we'll be next year, now it's just wondering who's going to be the new owner, and then the trickle effect of management to follow that decision. There is a certain sense now though that we're not the butt of jokes as an organization anymore, and that we actually are going to be able to produce some good players and good teams in the near future. Best of luck to you Shawn and thank you for your time. We'll be rooting for you.